Miami Marlins second basemen, Dee Gordon, announced his pledge to support Striking Out Poverty, a baseball-themed campaign to raise funds for life-giving education, healthcare, water and agriculture in the Dominican Republic. Gordon is personally donating $200 for every stolen base through the end of the regular season. Fans can join him in changing lives by making a pledge of their own for a chance to win exclusive rewards at pledgeit.org/dee-gordon.
Funds raised will be used to support Striking Out Poverty's community development projects in nine of the poorest communities in the Dominican Republic; each community represents an inning. Striking Out Poverty works through Food for the Hungry to improve water infrastructure and purification systems, build community centers, implement sports programs, revitalize baseball fields, and offer training to local leadership and farmers.
"My time in the Dominican inspired me to make a difference. I didn't know that these communities didn't have clean water, that was shocking to me," said Gordon. "It's not okay for kids not to have clean drinking water, for people to be hungry for no reason."
Gordon's continued support for Striking Out Poverty comes after his first experience with the organization in January 2017. Gordon joined its mission trip to the Dominican Republic where he met with community members to learn more about what resources are needed, encouraged youth and conducted baseball clinics, as well as help install a new water tower.
Gordon's goal to raise $10,000 through his Pledge It campaign will be made possible by fans who make their own pledge. Fans who join the campaign will be eligible for rewards such as autographed items, game tickets, meet and greets, and on-field experiences.
In addition to his Pledge It Campaign, Dee Gordon is the ambassador for Striking Out Poverty's limited edition Athletes Brand t-shirt available now through May 17th at athletesbrand.com. A portion of the t-shirt sales will benefit Striking Out Poverty.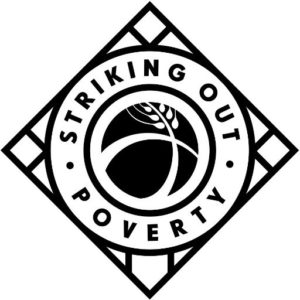 About Food for the Hungry and Striking Out Poverty
Through the Striking Out Poverty program, established in 2014, Food for the Hungry is working to bring an end to extreme poverty in the Dominican Republic. Food for the Hungry has worked since 1971 to serve the most vulnerable people on earth through purposeful relief and development. They offer access to life-changing resources such as clean water, medical aid, food, equal educational opportunities to girls and boys, vocational training and empowerment amid unimaginable hardships.For more information, visit www.strikingoutpoverty.com.